Pocket Microscope PZO - 1970s
This pocket microscope, in our collection, was a present. When Terry was visited PZO, he was presented with this microscope, by the Deputy Director of the Company.
It is very nicely constructed.
The microscope, in a shape of pen, has a magnification of 16 to 32, continuously adjustable. It is 110 mm (4.37 in) length, and 43 mm (1.69 in) diameter, weight 28 gram (0.98 oz).
The optic is coated.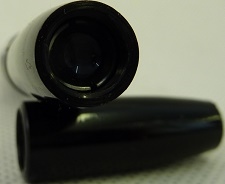 Pict 3; Pocket microscope PZO eye lens ; © Anna Vacani
The objective is fitted with a hood specially shaped for to let in light.




Pict 4; Pocket microscope PZO objective hood; © Anna Vacani
The picture from microscope is inverted - up side down.
In the middle of the power adjustment the metal is knurled to get a grip.
The microscope is in the carrying case. It can be hanged on the waist belt (Pict 2).
To focus the microscope, place the center of the objects lens right above the specimen and, while the tilting the cylinder forward and backward with your eye on the eyepiece lens, fix the cylinder and observe at the angle which can give the sharpest image.
In 1830 appeared an advertisement of the pocket microscope "The Botanical Microscope invented by Dr. Withering, which is more portable and convenient than any other is now manufactured by Mr. Beilby, Optician, Clare Street, Bristol "
Dr. William Withering was an English botanist, geologist, chemist and physician. He invented pocket microscope for use on his botanical field trips, looking for herbal remedies.
This kind of microscope was popular in the USA. In 1823 the pocket microscope was advertised: " $4 Imported Pocket Microscope, Graduated from 39 to 56 Power 3 lenses, 5 in long, 5/8 in. in diameter, with dust cup - $4 [..] of the same type of instrument, in 25 power, only $1, [...] These two microscopes are in grate demand by toolmakers, chemists, biologists."
Today, this kind of microscope is advertised as convenient in numismatics or a jeweler loupe, as well.
Pict 1; Pocket microscope PZO in our collection; © Anna Vacani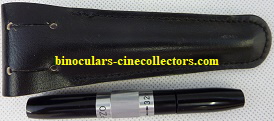 Pict 2; Pocket microscope PZO in our collection; © Anna Vacani