Siemens Model 800 Type Sf. P 8.6 -1966
The projector was made in West Germany, by Siemens & Halske. This model is smaller version of the 16 mm Siemens 2000 projector - in our collection, listed under 16 mm projectors, page .
It is very well engineered projector with many unusual features; double claw, sprung edge guides.
As other Siemens projectors, this model is Hammerton finish.
Mains Input
The projector has a transformer, it suits voltages: 110/125/220/240.
This model is fitted with a internal transformer for the 12 v 100 w lamp.

Motor: constant speed motor with pulley shift for 18 or 24 fps.
Lamp: the projector takes 12 v 100 w - it is a model named by collectors as "Marlin Monroe" with four blades - base model P35s. Our projector is supplied with Philips lamp, model A1/203, made in Holland. Our model is later version of Simens 800 and it does not need a resistor.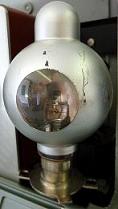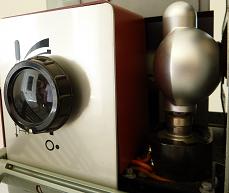 Lamp 12 v 100 w "Marlin Monroe"
Lens: it is 22 mm lens; f 1:1,5, made in Germany by Astro Kino IV. The lens is bloomed.
Spool Size: The projector takes 5 size of the spools: 50, 100, 200, 400 and 800 ft. The rear reel arm can be opened to three positions: Upper, Middle and lower. If the arm is in middle position it takes spools - 400 ft and 800 ft. In the lower position - 50, 100, 200 ft of spool capacity. According to the Siemens publicity photographs, this model it take up to 2000 ft capacity spool.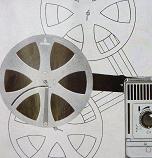 the arm positions
Threading: it is completely manual threading projector.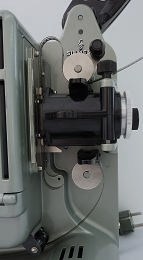 - threaded film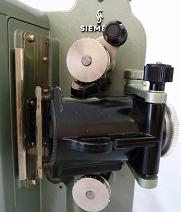 - the opened gate
The projector has two claw - one claw below the gate for normal forward operation and the second claw above the gate aperture to pull the film upwards when running in revers. Next feature of the machine is negligible change in frame line position when the machine is changed from forwards to revers projection. The sprung edge guide and front pressure plate fitted into machine prevents the film from weave from side to side as it goes through the gate.
The large sprockets of 24 tooth
Shutters: the projector is provided with two blade shutter and three blade shutter. The two blade shutter is factory mounted in the projector; the three blade shutter is attached to the base plate. The three blades is used for frequency of 18 fps, and two blades shutter for 24 fps.
The Simens 800 projector speed is - 18 and 24 fps.

Production No 121121
Projector; transformer; instruction; case
internal transformer
Two blade shutter attached to the base
Frame frequency control button