Projector Bauer P6 Studio 16 mm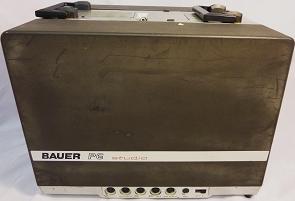 Pict. 1 The projector Covered from both of sides

The projector is a very kind donation to our collection.
This model was produced by Robert Bosch Photokino GmbH, in Stuttgar, Germany, in 1968-1970.

The projector is unusual in many ways. It is a double band projector with many input and output connectors. The amplifier and the speaker is built in.
Describing the projector in a very general way - the projector is for showing silent films and sound films with both optical and magnetic sound.
Giving a further information, on the projector can be used six kind of films:

1. Films
Picture Film

- Silent films, ie. picture film only (SEPPIC);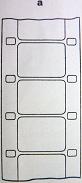 - Picture and optical sound (COMOPT)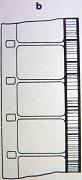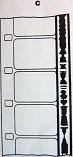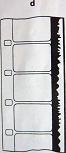 - Picture and magnetic sound recording (COMMAG)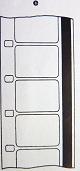 - Picture with combined magnetic and optical sound
recording (MAGOPT)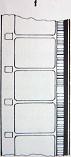 Magnetic film (for double-band side)

- Magnetic sound recording on center track
(SEPMAG/center)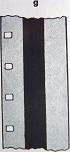 - Magnetic sound recording on edge track (SEPMAG/edge)



2. The projector features

Image size: 7,5 x 10,36 mm; Size of the projector picture aperture: 7,16 x 9,6 mm.
Lens: Lens made in Germany; ISCO GΓΆttingen; Kiptaron 1.3/50.
Drive: synchronous motor, permits synchronous single operation, or operation in conjunction with other studio synchronizing equipment, via multiple socket on the projector.
Power: The voltage in the projector can be set (by a coin) to the local voltage - 220 or 240V/50Hz/400W AC.
Projection Lamp: is 24V 250 W halogen. Light output - about 450 lumens.
Running speed: 24 and 25 fps can be switched mechanically forward and reverse run (picture 5).
Claw: three tooth claw.
Rewinding: Picture film - rapid power rewind; Magnetic film - power rewind (for long film use separate rewinder).
Amplifier: built in 20 W sine wave. Speaker: built in - 0.5 W.
Input: Phone 150m/V/600 k ohms; Microphone 0.5m/V/200 ohms, symmetrical.
Output: Speaker 8 ohms.
Volume Control Indicator: dB indicator; signal to noise ratio >45 dB.
Operating Hours Counter: Next outstanding feature is the operating hours counter (Pict. 5), built in.
Reel Capacity: 600 m or 2,000 feet. The projector takes 4 reels. The maximum permissible spool diameter is 15'' - 382 mm.

Pict. 2,3; The picture side operation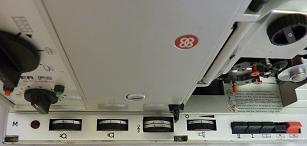 The projector is fitted with many adjustment knobs from all sides. In this way the projector should be set up in a place where is free access from all sides.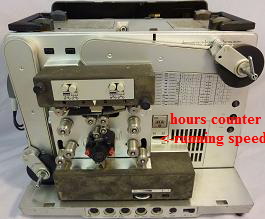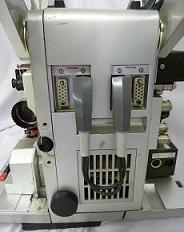 Pct 4; The electric power knobs &jack for speaker Pict.5; The side of the magnetic film operation Pct. 6


The projector is fitted with a special security feature - the tension roller. Without film, or in case of film breakage during operation, the tension roller atomatically cuts off the power supply for the projector mechanism and the projector lamp. This prevents film damage. The supply of the amplifier is not interrupted however. The projector is automatically switched off when the end of the film passes the sound unit.
The power of the lamp can be adjusted. The lamp can operate at full brightness or at reduced output, extending lamp life (picture 7).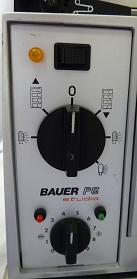 Pict 7;


Rewinding the film, the knob has to be turned to the left - picture 7.

3. The picture side

Making the power connection it has to be insert the bridging plug and adjust the voltage to the locale voltage, using a coin to set voltage.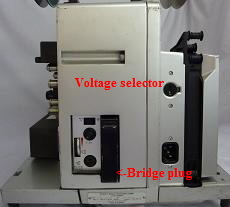 Pict 8 ; power conection

Threading a film must be paid a special attention to:
- the teeth of the feed and take up sprocket are properly engage with the perforation, before closing the film holder;
- film loops above and below the film gate must be exactly much the drawing on the projector;
- after treading the tension roller must be release and the lens carrier closed.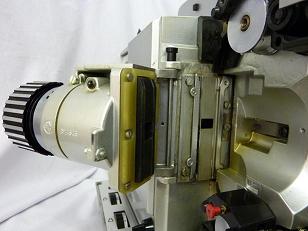 Pict 9; the lens carrier
4. The Sound film Operation

The sound picture must be threading in the same way as on the picture side, but for double-band operation, the picture film must bear an exact start mark as follows for the exact synchronization of picture and sound. The film can be treading according to the treading chart with the sound operating modes (pict.10).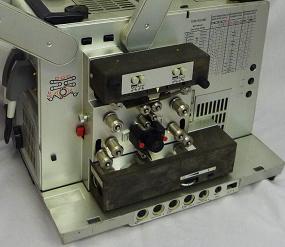 Pict 10; Double-band side with the synchronization threading drawing (on the left side) and threading mode chart (on the right)

Operating mode form magnetic and sound films: SEPMAG; COMOPOT; COMMAG- the double band cable must be connect to the socket - Picture 6; and a proper push buttons depressed - Picture 2 & 3.
The magnetic film must coming off the reel in a clockwise direction - dull magnetic emulsion on the inside.

5. The projector's body
The projector is very heavy. Without reels it weights 64 lb - 29 kg.
The dimension: H - 12,7'' - 322 mm; W - 15,4'' - 392 mm; D - 13,2'' - 336 mm.

Attention:
If anybody would like to operate the Bauer P6 Studio projector, on all factions, must to have the full operating hand book!!!