USSR Opera Binocular 2,5x x 24
The binocular was produced in Russia in the former Soviet Union -USSR, ca. 1980s. This date indicate the kind of coating on the optics. In earlier production the coating more noticeable.
The binocular was sold as opera glass in 1990s, as well. It was listed in the English catalogue 1996.
The collectors described it as "Krushchev era binocular".
The binocular was produced by Lytcarino Optical Glass Factory (LZOS) near Moscow. The logo factory is visible printed on the top bridge eyepiece - as a letter C



Pict 1; Opera glasses in our collection; Copyrights pictures Anna Vacani
The magnification of the binocular is 2,5x. Objective glass diameter - 24 mm. Exit pupil is 9.6 mm and dioptric adjustment is +7. Field of view 12°40'.
External features:
It is central focusing model. The binocular body is made from white Bakelite and brass.
On the bridge is the binocular description - magnification; eye width; factory logo and country production.
Distance between axis of tubes 65 mm.
Internal features:
The binocular is non-prismatic. It is non-prismatic binocular - Galilean model . The optic is lightly reddish coated.
The binocular measurements:
Long - 32 mm; width - 100 mm; Height - 53 mm; Weight (without case) - 140 gram.
The binocular has a very nice leather case with hand strap. On the side of the case is embossed "Made in USSR".



Pict 2; the case side; Copyrights pictures Anna Vacani
The case was specially produced for the theater glass, on the flap is embossed the theater mask.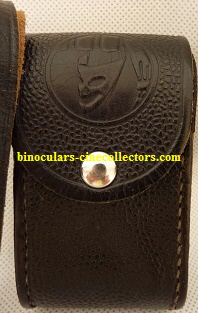 Pict 3; The case of the opera glasses; Copyrights pictures Anna Vacani

Pict 4; Opera glasses with original case in our collection; Copyrights pictures Anna Vacani
Pict 5; Opera glasses in our collection; Copyrights pictures Anna Vacani


Pict 6; Opera glasses fully extended; Copyrights pictures Anna Vacani


Pict 7; the objectives; Copyrights pictures Anna Vacani