Ditmar - 8 mm and 9,5 mm -1937
The projector made by R. Ditmar G.m.b.H..., Kartnerring 17, Wein 1 Austria.
The projector first appeared in 1937 and returned after the war. The basic design has remained unchanged. Several detail modification to the mechanism has been made. The projector is named Ditmar Duo because of dual gauges projector. This machine has two separate film paths complete with special gates for each of the gauges.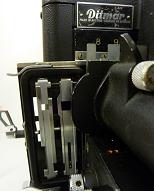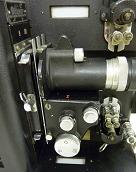 It has been available in three versions:
- 16 & 9,5 mm;
- 8 & 9,5 mm;
- 16 & 8 mm.
Our model is 8 & 9.5mm, it is very rare projector as it has not been produced after the war. And our model has a selector knob for desired gauge claw for the different gauges, which mechanism made in projectors after 1938 had not required any claw selection.
Graham Noonan on his web site says about Ditmar projectors : "Initially there were three machines offered : model 2960 for 9.5mm and 16 mm; model 2890 for 8mm and 9.5mm; and model 2860 for 8mm and 16 mm."-."-
http://www.pathefilm.freeserve.co.uk/95geardit.htm
The projector has alternative gates with their appropriate condensers, dual purpose sprockets and double headed spool spindles.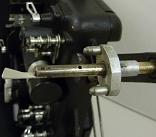 - spool spindles for 9.5mm

- for 8mm

To change gauges required to move the lens and lamp by lever, into the front of the appropriate gate. Next it has to be reversed the sleeves on the feed and take up spool spindles and tread the film over the correct sprockets.
- The projector features:
- Lens: P. ANG√ČNIUX Paris 1: 1,5 F = 35
- standard lamp of 250 watts runs at mains voltage; Lamp cooled by fan in base of projector; Two totally enclosed pilot lamps, one behind top loop, other on switch panel shining up to bottom loop;
- two pilot lights, each illuminating one of the sprockets;
- revers running;
- still picture device;
- three bladed shutter;
- two sets of double claw - one for each gauge;
- 400 ft (120 meters) arms.
The gate pressure plates and film guides can be removed for cleaning
The body made of solid die cast construction with sheet metal lamphouse covers and black crackle finish.
Silent projector. Looking at the projector the first impression is, that it is very heavy machine. But is is very light projector - weight 15 lb (6,80 kg).
Production No 2246

Additional information:
After the war, in 1951 "Amateur Cine World" - November edition, advertised two models: 8/16 mm and 9,5/16 mm. The colour of the projector had not been changed. Price: £89, 10, 0 (89 pounds and 10 shillings and 0 pence).
In November and December 1954 "ACW." edition is advertisement of the same model, but in a new light colour of the projector, it was light blue metallic. The price was lower: £79, 15. 0. The model number has been changed a little - it was 2860N. It was added to the number - letter 'N'. The spool arms 400 ft.
Further modification, we ca see in "The Photographic Blue Book" 1958/59 edition. The projector was fitted with a new 800-ft spool arms. The price without lamp was : £84, 15. 0.
The projector - Philips lamp
Internal mechanisms
Model 2890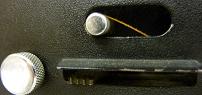 Lamp lever