Golden Jubilee of Group 9,5
At 11th September 2011, our Cine Club - Group 9,5 has celebrated Golden Jubilee, in Harpenden, Hertfordshire. A lot of the Members were present. A couple from the USA arrived as well. The French language was heard too.
The program of the holiday was very interesting. Before the film show, a short lecture by Kevin Brownlow about the French comedy - "The Italian Straw Hat" was given in a very humorous way.
During the meeting many cine items were sold and bought.
Pat Murray welcomed everybody at the door, in exceptional warm way.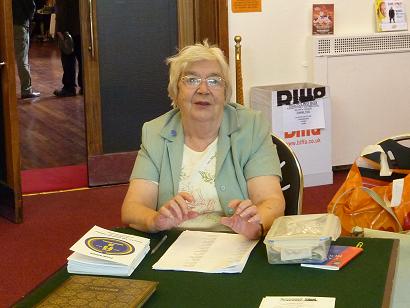 The memory of 25th Anniversary was exposed in the pictures. Ken Valentine (in the picture on the right) memorized all 50 years of our club in his short piece of writing in the Golden Jubilee Program.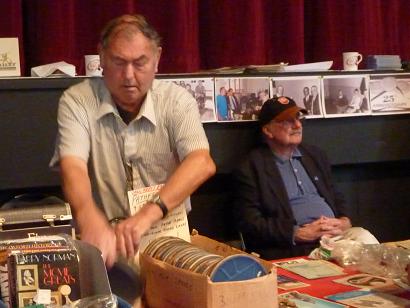 Ken Valentine memories
- With the permission of the author and the authority of the Group 9, 5 Club; Chairman - Graham Murray agreement for publishing on our Web site.
HALF A CENTURY AND STILL GOING STRONG By Ken Valentine
My first recollection of the Club was that it was started in 1961 by Paul van Someren and Larry Pearce. Some of the first members were Hugh Hale, Malcolm Cutmore. Eric Mill house, Gordon Clarke and Patrick Moules.
Once it was advertised in the then "Amateur Cine World" magazine the membership increased very fast, and at one time we had over 500 members. Apart from those in England we had members in Australia, New Zealand, Canada, Spain, France, Holland, Germany, Sweden, Saudi Arabia and even behind the Iron Curtain. The latter who were unable to send money for their subs, sent us raffle prizes instead.
In the early days of the Club, Gus Phipps who had been Secretary for five years stood down and Frank Moon was elected in his place. Hugh Hale was elected as Club Chairman and George Whitfield as President, with Janice Uphill as Treasurer.
Our first Get-Together was held at Kensington Library and the admission was 8/6d. The subs would remain at 15 shillings a year. In 1970 we held the Get-Together at Chiswick Town Hall for the first time, with an entrance fee of 45p and the dealer stands at £1.00 per table. A Bring and Buy stand, and an Auction was introduced. Club badges were also obtained.
The strength of Group 9.5, and one reason why it has survived for fifty years, is the excellence of our magazine, keeping ninefivers up to date with news and events. This is in no small measure due to the strength and personality of successive Editors. Paul van Someren was the first, when our magazine was called 'The 9.5 Review". He was followed by Malcolm Cutmore in 1964 and by Gordon Clarke in 1966. Gordon oversaw the change of name to "9.5 Magazine" in 1972, after which indicating he wanted to resign but would continue in the post until a replacement could be found.
Paul Gates occupied the Editors chair from 1975 until 1979 when Malcolm Cutmore returned again to take on the task. Incredibly Malcolm has continued as Editor for thirty two years, a truly outstanding achievement, and our house magazine continues to flourish under his enthusiastic editorship.
Film stock and equipment was being supplied by Larry Pearce (LG.P. (Cine)), who explained he would do all he could for 9.5, but was affected by lack of demand for new equipment.
By 1971 changes again in the Club management saw Hugh Hale elected as President, with John Burgoyne-Johnson as Chairman, John Critchley Vice Chairman and myself Ken Valentine, elected as Club Secretary.
Ken Finch, our film librarian, had added a further 44 films to the library making a grand total of 245 films for hire.
In 1978 the BBC produced a program me called "Caught in Time", and hundreds of 9.5mm films were submitted and shown, many from our members, generating a great deal of interest from the viewing public. We received letters concerning 9.5mm film and equipment and as a result of this program gained many more members. Following the "Caught in Time" program, the BBC showed two further programs in the same year "The Home Front" and "Windmill" both with help from the Group.
Preparations for the 1987 Get-Together were well advanced when on the Thursday
before our big day; the country experienced one of the biggest gales in our history. You name it, it was blown down, trees, walls, hoardings and even parts of houses. The worst damage took place in London and the South East of England. Reports of no electricity in some places and with fallen trees blocking roads and railways it was thought our event would be cancelled - but there was no word from Hounslow Council. One consequence was my telephone never stopped ringing as members inquired if the Get-Together was still going ahead. Thankfully it did because the event celebrated Group 9.5's 25th anniversary, with a wonderful birthday cake made by Shirley and Larry Pearce in the form of three Pathescope 300 ft blue super reel film boxes. There is a photograph of this work of art in our magazine number 52.
The '"9.5 International", a film festival exclusively for nine point five millimeter films, who would have thought that would be possible after Pathescope's demise. When it is Group 9.5's turn to host the festival, various members have taken on the job of festival organization, all with successful outcomes.
The roll call is impressive, Hugh Hale at Bognor Regis, Angus Tilston at Chester, John Ferrari at Edinburgh and Mavis and Roger Spence organized three festivals, one at Scarborough and two at York. Pat and Graham Murray organized Folkestone in 2003 and are organizing our 2011 Harpenden Festival concluding with the Group's 50th Celebrations.
In 1989 we had to use St. Gabriel's for our Get-Together as Hounslow Council had double booked Chiswick Town Hall. 1989 also saw the introduction of a new 9.5mm film stock from S.E.F in France - "Fuji Velvia", but by the mid nineties S.E.F had folded- Thanks to the initiative of the French 9.5 Club a new supplier and processor, namely Cine Dia has kept nine-fivers supplied with film stock ever since. At present our vice-chairman Grahame Newnham imports and distributes this stock.
Passing into the 1990's, the cine magazine "Making Better Movies" ceased publication but a Saviour by the name of John Shearsmith founded his first quarterly magazine called "Amateur Cine Enthusiast" and reintroduced the Amateur 'Ten Best" film competition.
In 1992 the Group presented me with a commemorative clock in recognition of my service as Secretary for over twenty years. Also in that year we were saddened to learn that our good friend and supporter, Gerald McKee, due to ill health, had decided to give up producing "Flickers", the journal of the Vintage Film Circle. Yet again another Group member has filled the gap left by Gerald, and Patrick Moules is the new Editor of a much revamped "Flickers" magazine.
Another bright spot in the early nineties was Buckingham Film Services introduction of the Buckingham 9.5mm Optical AND MAGNETIC sound projector. B.F.S is still a major source for film equipment and services, so the film gauge is still viable to those who wish to film with 9.5mm.
One major highlight for Group 9.5 in 1995 was a nine point five film winning a ACW Ten Best award, the first time for thirty nine years. The film produced by our Group Chairman Graham Murray was called 'The Colonel's Line" and received much deserved praise for the content and the superb image quality, which we all know 9.5mm is capable of producing.
Another dedicated member namely Harold Bailey managed to raise the Club's profile yet again on television, when he showed his film and projector collection in a program entitled "Light of my Life", with part of the production having been shot in St. Gabriel's. Coming into the present era the Group had a major shock in 2002, having booked Chiswick Town Hall for the Get-Together, we were told in March that the rental had gone up to over one thousand pounds. Ealing Town Hall wanted even more. One of our members suggested Harpenden Public Hall, so David Erskine and I went to view the venue and were so impressed we booked for 2003 and 2004. The cost to the Group was the same as we had paid at Chiswick five years before. On the down side amateur film makers were saddened by the closing down of the magazine "Amateur Cine Enthusiast" a real blow to the cine movement.
At this celebration of our 50 years of existence we can indulge in a fair measure of self congratulation because, thanks to the dedication of many in this Club of ours, we have survived to maintain the pioneering amateur film gauge - 9 5 mm.
However we should not forget those who have now gone to open a new branch in heaven, members who helped support and worked hard to maintain Group 9.5's continued existence.
Prominent among them were Paul van Someren, Ron Price, John Burgoyne-Johnson, Bert Pickering, Laurie White, Bernard Brelsford, Cecil Cramp, Ron Middleton, Richard Menten, Ray Papaia, Alan Lott, Tony Churcher, Walton Parfitt and of course our own comedian Treasurer David Erskine who would do anything for the club.
God Bless them all, and may the rest of us continue to keep Group 9.5 running for many years to come.

A few pictures from Golden Jubilee